How to become a responsible traveler?
Mộc châu:
My visit to Moc Chau gave me an opportunity to experience community-based tourism firsthand and become a responsible traveler. I had a chance to collaborate with an NGO to help promote sustainable tourism and support minority groups in Moc Chau. Moc Chau is about 200km northwest from Hanoi. It is an incredible plateau with impressive waterfalls, magnificent green tea hills, and beautiful flowers.
If you want to see the heavenly scenery of white plum flowers, you should visit Moc Chau at the end of January. In the high mountains, they build houses on stilts, called Nha San, to mitigate damage from the harsh weather and avoid wild animals. Staying in Nha San was such a unique experience. Firstly, I don't need a fancy air conditioner because I could feel the fresh and cool mountain air. Secondly, I don't need a 4K TV because I can observe the charming scenery with clouds drifting through the window. Because everything looked so dreamy and peaceful there!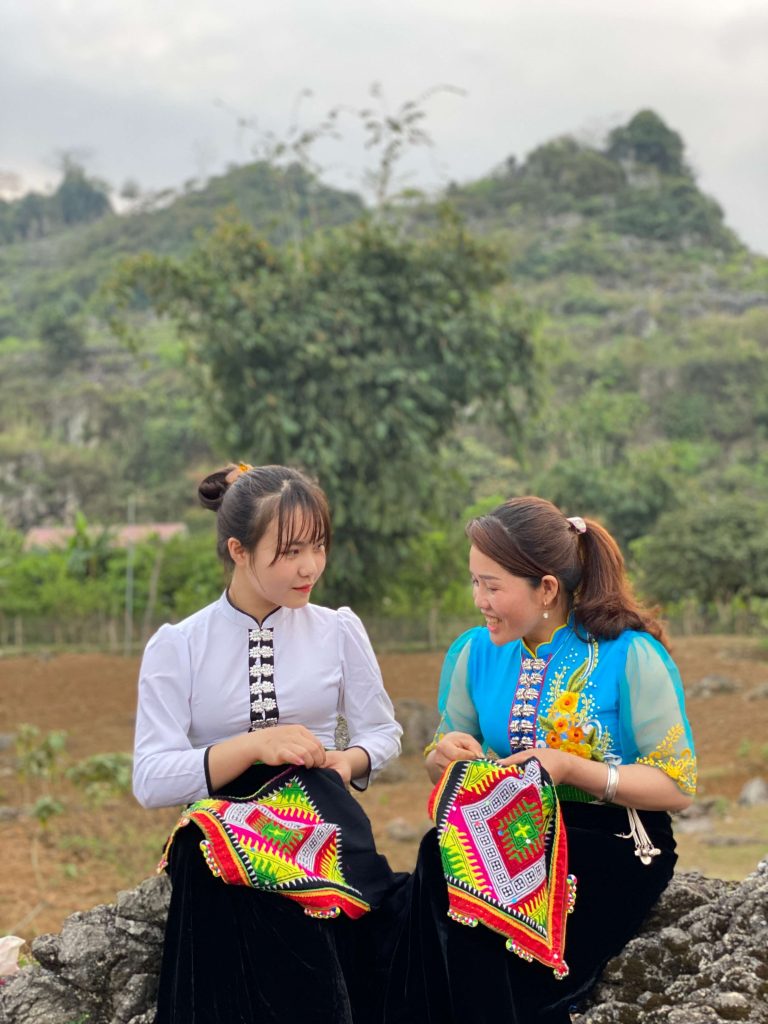 Local Thai People:
White and Black Thai people are the biggest ethnic groups in this region. They're popular for their stunning costumes and colorful scarves. The local showed me how to make a traditional scarf called Khan Pieu. As Thai women, their mothers taught them how to weave and embroider Khan Pieu. When they get married, they will give the scarf to their parents-in-law as a gift to show respect. It takes about two to four weeks to complete a scarf, and each Khan Pieu tells a different story through its patterns and colors.
The hosts were friendly and helpful. They gave me opportunities to fully embrace their culture. I had a chance to participate in many agricultural activities such as picking plums, planting rice, and harvesting strawberries. These experiences really changed my views about food and where it comes from. I realized that every grain of rice that I have every day contains so much love and hard work from the farmers.
Dao people have unique bells dancing around fire rituals, with the purpose of paying tribute to their ancestors. In addition, Bamboo dancing is not only popular in Thai culture, but also in other northwestern tribes of Vietnam. The dances bring people from different ethnic groups closer. It's great to see them sharing cultures, dancing, and laughing together. Unfortunately, these traditions are fading away due to the rise of globalization.
A Responsible Traveler:
As a responsible traveler, playing with the kids, teaching them English, and taking pictures with them were my favorite moments throughout the trip. I found peace whenever I looked at their innocent eyes and their beautiful smiles. The highlight of this trip was cooking with the local people. I was impressed by how simple ingredients can make such delicious unique dishes like these. While cooking, I learned a new word for taro stems in Thai, it sounds pretty similar to an English expression. After dinner, I got to wear the traditional clothes and immersed myself in their cultural dances. Cong chieng dance is usually performed to wish for a prosperous new year in Muong culture.
One of the ways to help minority groups revive and preserve their culture is to become responsible travelers. That means understanding local cultures, supporting the local economy by purchasing local goods, and practicing an environmentally conscious lifestyle. By doing so, we not only help minority groups increase their income which can help them access education and healthcare, but also empower local communities to lift themselves out of poverty. I know it's hard to directly support minority groups in this challenging time. However, digital media has played an important role in cultural heritage preservation.
If you can't travel, share this video to raise awareness about sustainable tourism, connect with me on my social media to create a community, subscribe to my channel to follow my journey, and together, we can preserve cultural heritage which can be passed onto future generations. I decided to become a responsible traveler, how about you?