10 Free Things to Do in Hanoi
Hanoi, the capital city of Vietnam, is a famous and friendly-budget destination for visitors. Thanks to its affordability of currency, Hanoi attracts a lot of backpackers and budget-conscious travelers. Here are the top 10 best completely free things you could enjoy in Hanoi.
Have a Free walking tour in Hanoi 
Are you new to the area? Are you confusing about where to go and what to do with a tight budget? Let's have a Free Walking Tour offered by a voluntary organization named HanoiKids. They are students who are young, friendly, and ambitious to bring Vietnamese breath and culture to foreign tourists. As you are struggling with deciding where to go and what to do in a new area, these enthusiastic volunteers would bring you a great experience without a cost.
Take a free stroll around Hoan Kiem Lake, Hanoi
Another free thing to do in Hanoi is visiting Hoan Kiem Lake. This famous place is the most captivating in the early morning and late evening. At this time, the dwellers would do many entertaining activities or just sit to relax and chat with their friends. You would see many youngsters skateboarding and adults dancing Zumba. It is also charmingly mesmerizing to enjoy the stunning sunrise and fun activities with local people at nighttime.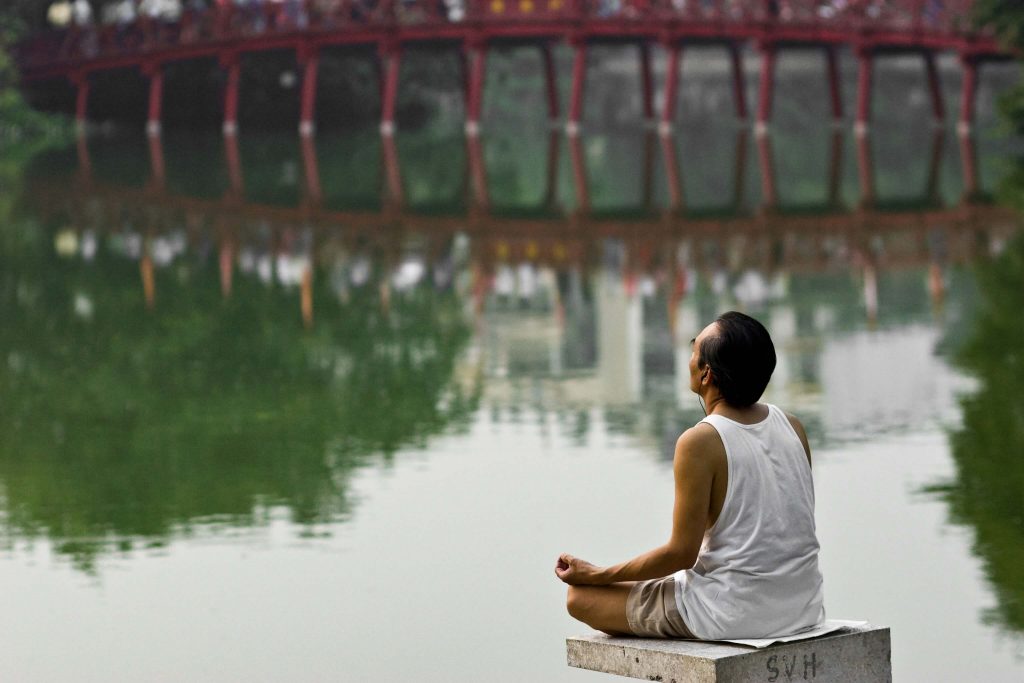 Visit early free morning markets in Hanoi
The best way to explore and experience the diversity of local Vietnamese lifestyles is to visit markets. You have a variety of market areas to discover and it's completely free in Hanoi. In each area, the residents would sell specific items. For example, Dong Xuan market offers a wide range of goods. Dong Xuan Market is popular as Hanoi's largest indoor market. Located in the north of the Old Quarter, the place offers many available things that present the harmony, diversity of Vietnamese local lifestyle and customs. Daily opening from 6:00 to 19:00, Dong Xuan market is a nice place to find numerous stalls selling tee shirts, fabrics, handbags, handicrafts, etc. Hang Da market would be a great place to go thrifting (guidevietnam.org) and Quang Ba Flower Market is popular for selling flowers.
Explore the Old Quarter
This place is a top tourist spot offering the city's business hub and main tourist destination. Hanoi Old Quarter, or Hanoi 36 streets, is a familiar name for the old town with historical memories (expatolife.com). The narrow, winding streets may make you get lost, however, this charming part of the city is worth visiting for its impressive insight into the complex and long history of Hanoi.
Visit Ho Chi Minh Mausoleum and Chua Mot Cot (One Pillar – Pagoda)
In the charming Ba Dinh district, you can visit a complex, huge park secured tightly. It considered as the very first must-come place when traveling Hanoi for its tremendous historical value. Ho Chi Minh was the first leader of Vietnam to the historic victory over the French. His body carefully preserved in a glass case. This is not only a famous attraction, but it's also a part of the art of unique, heroic Vietnamese history.
Behind the Mausoleum, the Ly Emperor built One Pillar Pagoda. This is a symbolization of beautiful Vietnamese sculpture and community culture.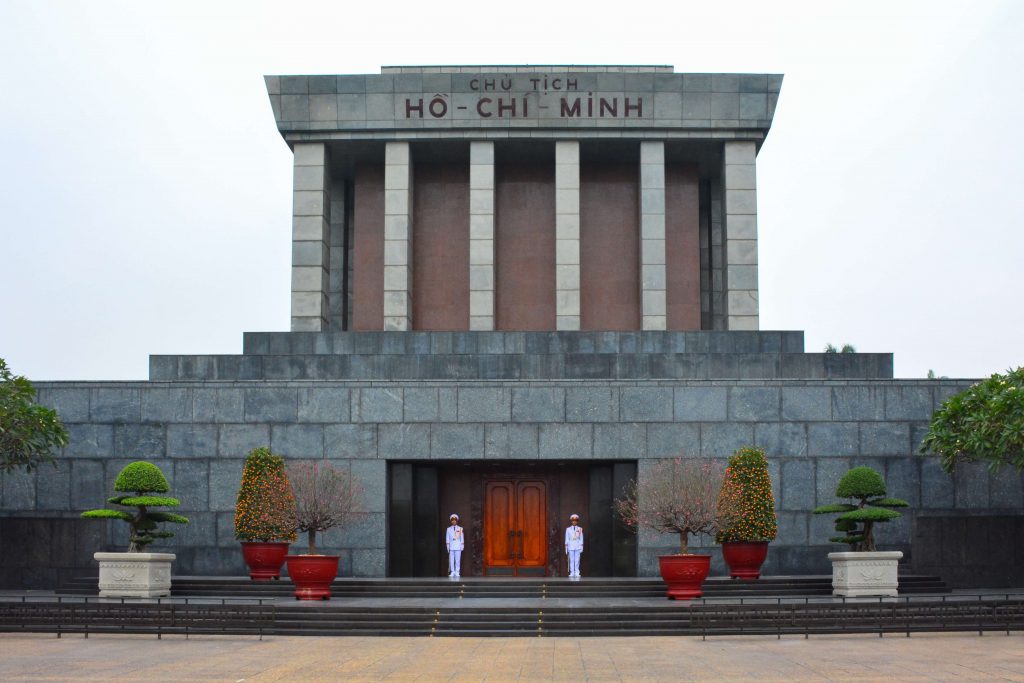 Long Bien Bridge
One more destination in Hanoi that you can explore for free. Long Bien bridge was built over the Red River by the French in the historic war phase. As you drive across it, you have the chance to enjoy some captivating views of banana fields on the alluvial ground. You could also stop at the banana stand for snacks.
Visit Contemporary Art Exhibition at Vincom Centre
There are many exhibitions specializing in topics in the Vincom Centre (Royal City residence in Thanh Xuan district). With the mission to bring Vietnamese contemporary art to the global art scene, it catches lots of attraction despite being newly found. And of course, you can enjoy this activity without any cost!
Watch The Sunset at West Lake
This is relatively a must-visit place for hundreds of Hanoian and visitors. The West Lake attracts people with its mesmerizing beauty, especially when the sun goes down. Enjoying this enchanting scenery while having "tra da via he" (sidewalk ice tea) costs nearly 1 USD with local people. It would be a great memorable experience for any traveler.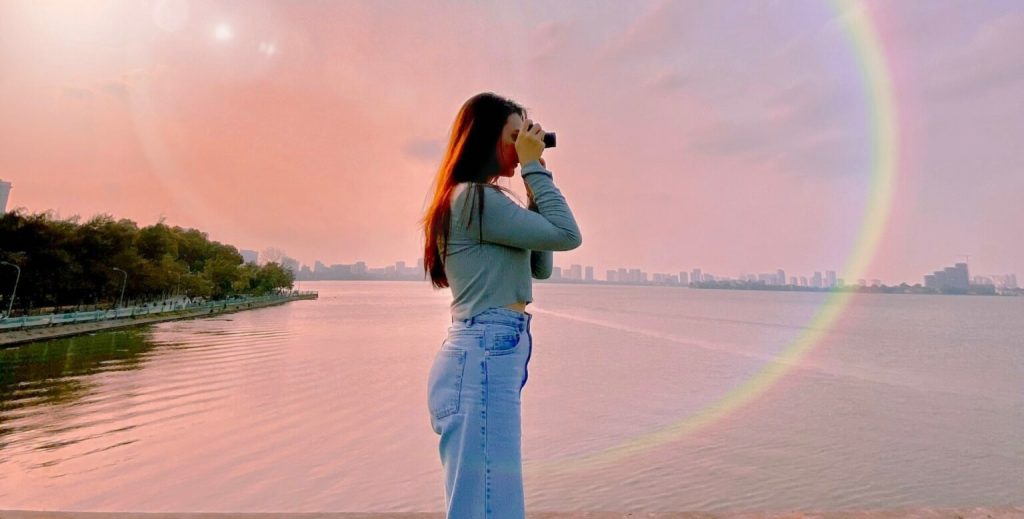 French quarter and St. Joseph's Cathedral
St. Joseph's Cathedral is the first church built by the French in Hanoi, Vietnam. Constructed in 1984, it has been built on the site of the Bao Thien Pagoda. After the French Colonist came to Hanoi, they completely demolished the pagoda to build the church (Vietnamtravel.com). Located in the Hoan Kiem district, it represents a Paris architectural style that is a part of Vietnamese history and culture as the oldest church in Hanoi.
Visit Hanoi Museum
As the capital of the country, Hanoi contains a variety of museums that brings about many specific insights into Vietnamese culture and lifestyle. Among them, the best-recommended place to enjoy without a cost is the Hanoi museum. It is located in Pham Hung street, Nam Tu Liem district. The museum displays artifacts from Hanoi's 1000-year history, culture, heritage, and architecture of Vietnam.
Having an overall design of an inverted Pyramid, this Hanoian cultural institution would broaden your knowledge about Hanoi.
These are 10 completely free things that you might want to experience in the capital of Vietnam. Hope you have a good time traveling here!