Overview:
🇻🇳 Vietnam is a Southeast Asian Country with a S shape
🏙 Capital city: Hanoi
🌆 Largest city: Ho Chi Minh City (Saigon)
🏝 Area: 331, 212 km2
👫🏻 Population: 97 million people
🔠 Official language: Vietnamese
👗 Traditional garment: Ao dai
Visa
To enter Vietnam, you most likely need a visa. Vietnam offers visa exemptions ranging from 14-90 days for citizens from 24 countries (
check your nationality
). If you're not eligible for visa exemptions, you can get e-Visas which is available for citizens of 80 countries (check this link
) or you can apply for a visa on arrival online or in person at a Vietnamese embassy or consulate.
From March 2020 until further notice, Vietnam suspended all entry for international tourists. They only allow Vietnamese citizens, experts, investors, and other special cases to enter Vietnam. However, Vietnam is gradually opening for tourists at the end of 2021.
Need help with obtaining your visas and updating the latest travel requirements?
Click here
Best time to visit
In terms of weather, the best time to visit Vietnam is from October to April because of moderate temperature and minimal rainfall. You will enjoy not only the weather but also many festivals and beautiful flowers from north to south of Vietnam. If you don't like hot and humid weather, you can go up north to Moc Chau, Sa Pa, Ha Giang to see magnificent green mountains or go down south Nha Trang, Phu Quoc, Da Nang to enjoy the sunshine at the beach in summer. Fall in Hanoi is absolutely beautiful with perfect weather, warm street food, and young rice season. Vietnamese Lunar New Year (Tet) is one of the most important holidays for Vietnamese people, and it usually falls in late January and early February. Therefore, if you have any Vietnamese friends who can host you, you can experience Vietnamese traditional food and customs. However, if you are a first-time traveler who goes to Vietnam during Tet, you'll be shocked that almost everything will be closed because everyone goes home and gathers with their family and friends (just like Thanksgiving and Christmas in the west).
Weather
🏞 North Vietnam has four seasons: Spring starts from February to April when the weather is chilly. Summer months of June, July, and August are the hottest months, with daytime temperatures can reach up to 35°C. Make sure you bring sunscreen and mosquito repellent since it's hot and humid during this time of the year. Drizzling rains and more pleasant temperatures come in the fall, August-November. During the months of December-February, it may dip down below zero in mountainous areas, such as Cao Bằng, Bắc Kạn, Lạng Sơn, Hà Giang, and Lào Cai. Pack wisely!
🛕Central Vietnam has been heavily affected by natural disasters and has the hottest months in the middle of the year. From September to November, storms and floods occur in several provinces including Huế, Hà Tĩnh, Quảng Bình, Quảng Trị, Quảng Ngãi, and Đà Nẵng. However, the weather is cooler and drier from November to April
🏝South Vietnam has 2 main seasons: Dry season is from November to April and a wet season is from May to October. Don't forget to bring your raincoat or an umbrella when visiting Vietnam during this time.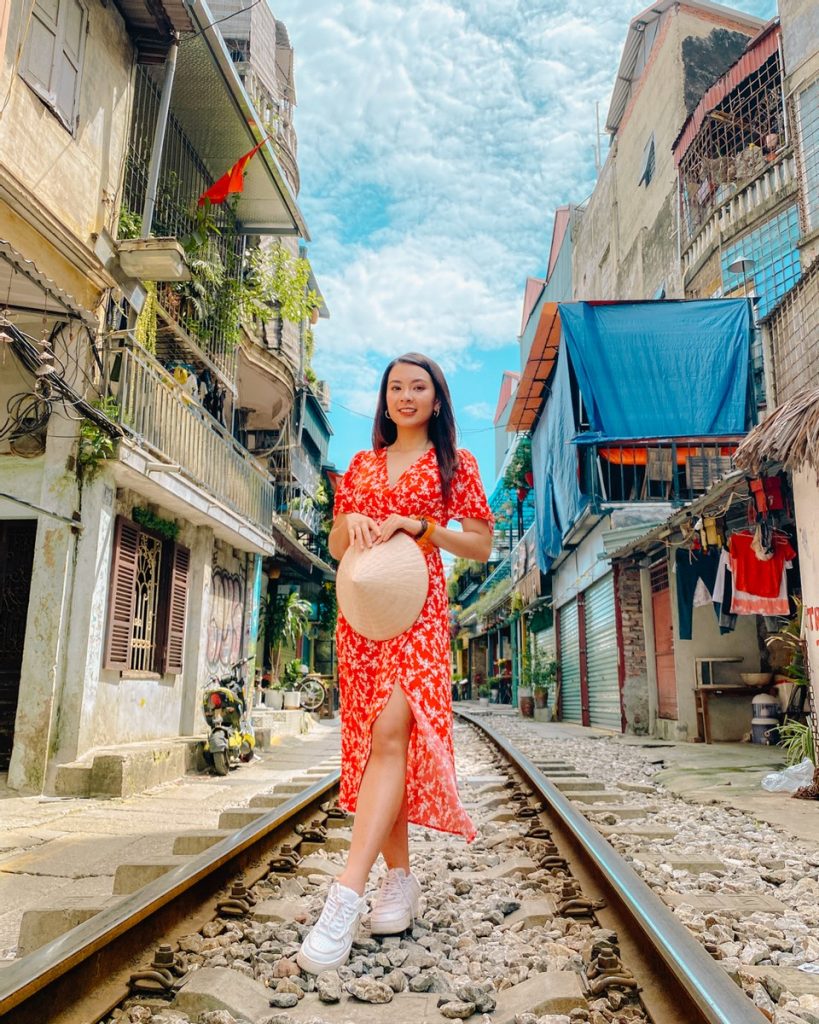 Money
Currency: Vietnam Dong ($1 USD ~ 23k VND/ €1 EUR ~ 25k VND.) Vietnamese people often use "k" to denote thousands.
Debit card: Yes, you can open your bank account in Vietnam if you meet the requirements. I recommend these international banks:
ATM: Open 24/7 with limited withdrawal. Avoid taking out money during peak time (Vietnamese New Year, National Holidays, etc) because they might run out of money. Note: ATM is not very accessible in rural areas
Bank office hour: Monday to Friday 7h30am – 11h30am, 1pm – 4:30pm (Yup! People take naps here)
Sale taxes are included: Don't worry about calculating your sale taxes after your purchase because VAT (Value Added Tax) is included
Tipping is greatly appreciated but not mandatory. Make sure to give the tips directly to the person who provide you services.
Plugs and Voltage
In Vietnam, the power plugs and sockets are of type A (flat two-prong pins), C (round two-prong pins), and D (3 prong pins). The standard voltage is 110 / 220 V and the standard frequency is 50 Hz. You can find the travel adapter in Vietnam or you can order one on Amazon.
Phone
Even though WIFI is almost everywhere in Vietnam, you need a SIM card to stay connected while traveling. You can buy a SIM card with different data plans which cost you on average about $5-$30 at the airport on arrival, SIM kiosks, or local grocery shops. I recommend you use Viettel or Mobifone because they have the best 4G/5G network in Vietnam. The SIM card might not work with your locked phone which is directly purchased from the carrier, you can visit Thegioididong or Viettel stores to ask for installation. Also, don't forget to check your international roaming because it can cost you a fortune if you use it overseas.
Tip: To check the balance, Dial *101#
Wifi
You can easier find high speed WIFI from the airport, coffee shops, restaurants, hotels, bars, to roadside stalls. However, Wifi is less reliable if you use it in mountainous regions or remote areas. If you need to be connected to the Internet all day (like me), you can buy portable wifi.
Transportation
Unfortunately, Uber cannot survive in Vietnam. Instead, you can use Grab, Be, Gojek to travel around the cities.
For traveling long distances, you can go by bus, train, and flight. You can book buses and train fares through
Baolau
Where to stay
4- 5 star hotels are the safest ways to go if you're not on a tight budget. Just like in any other country, international luxury hotels have beautiful rooms, gyms, and nice restaurants. They can range anywhere from $50-$200 per night. Agoda or Booking.com are usually the two sources that I go for
Airbnb: From $5-$30, you can stay at beautiful residential homes, private rooms or in the whole villa in many cities in Vietnam. There are many options for you in airnbn
Hostels: If you are looking for a social backpacker vibe and budget friendly staying, you can check out many hostels here in Vietnam. Check out this article to learn more. Since hostels are communal accommodation, be cautious about your belongings.
Homestays are a form of accommodation where you stay with ethnic people, very popular in the northern part of Vietnam. You will stay in a bamboo house, sleep in wooden beds with warm blankets, get a view of rice fields, and participate in cultural activities. It's a great way to support the community based tourism, protect the environment, and help the minority group's economy.
Where to go
Vietnam has it all, from stunning beaches, manificient rice fields to breath-taking mountainous regions and UNESCO heritage sites. Also, there are 63 provinces in Vietnam for you to travel to. I dedicated the whole page for those destinations where I frequently update since my plan is to travel from north to south (Check out this
link
and don't forget to subscribe to my Youtube channel
here
as well).
What to eat
If you love food and coffee, Vietnam is a perfect destinition for you. Besides Pho and Banh mi, there are a lot of good food, such as Bun Cha, Bun rieu, Nem Ran, etc. However, there are some certain foods that you should be careful such as tiết canh (blood pudding), rượu rắn (snake wine), pufferfish or any strange meat. Don't drink tap water in Vietnam since it's not filtered. If you have food poisoning, go to the nearest hospital or call 115.
What to do
If you're not sure where to go yet or you have a plan and don't know where to start. I can help you choose your local buddy who can help you hidden gems and delicious food in Vietnam.
Book your buddy now!