Top Popular Dishes in Hanoi
Hanoi, the capital city of Vietnam, is not only popular for its mesmerizing beauty but also for its mouth-watering inexpensive local food that attracts many visitors. Here are the most popular dishes when it comes to Hanoi cuisine.
Pho
Pho is definitely one of the best server popular dishes in Hanoi. This warm, hearty soup includes noodles, beef or chicken, aromatic broth from many types of herbs, and Vietnamese five spices. Many prestigious articles and celebrities praise this dish. CNN regarded Pho Bo as the 28th best food in the world! Up until these days, there has been no dish that can represent the essence of Vietnamese cuisine like Pho. The great delicacy might have a simple outlook with simple ingredients. In fact, it made sophisticatedly, with long hours simmering bones, beef, and a lot of spices.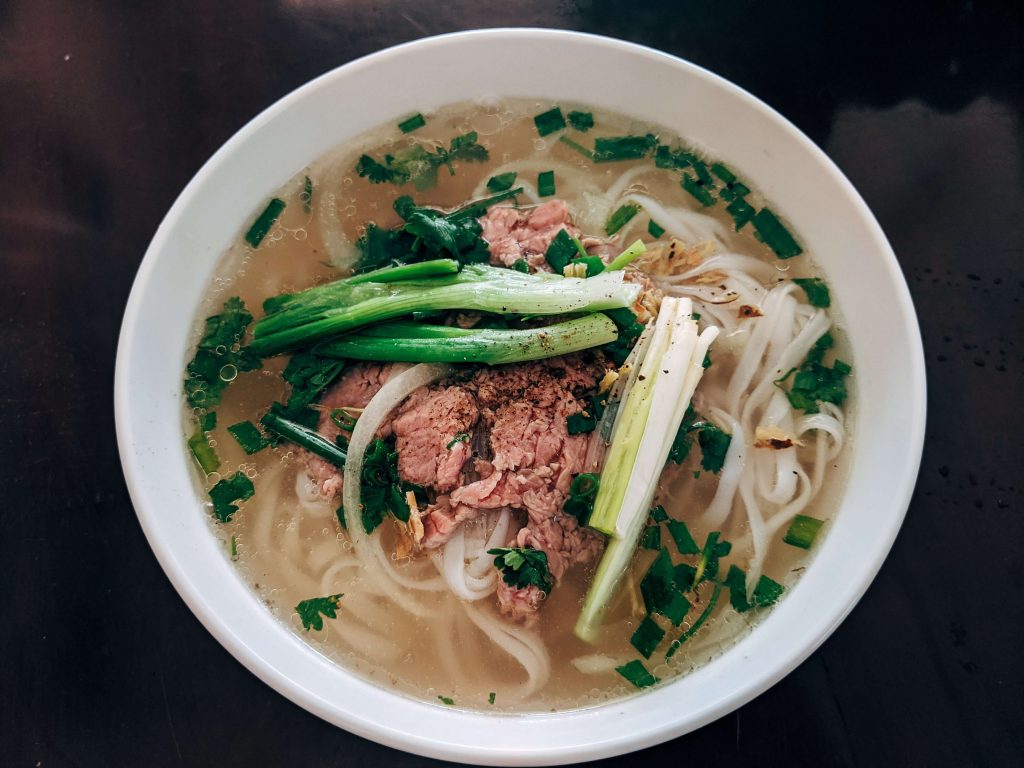 Bowl of hot spiraled up Pho for dinner
It highly recommended to have Pho with some herbs, vegetables and especially, with some bagel twists ("quay" in Vietnamese). Slightly dipping these crispy "quay" into the aromatic broth which is savory, complex, and filled with many beautiful spices. It would be satisfyingly wonderful for your dinner time.
Where to have the best Pho for dinner? Here are the top 3 places for your Pho:
49 Bat Dan, Hoan Kiem, Hanoi:
Pho 10 Ly Quoc Su (Chan Cam), Hoan Kiem
13 Lo Duc (Le Van Huu)
Cha Ca La Vong
Cha ca is also another popular dishes of Hanoi, with white fish served on a sizzling pan and garlic, ginger, turmeric additions. The dish, with its accompaniments, is complex in flavor and texture yet they come together harmoniously. You may have some rice noodles, peanuts, chopped spring onions all contained in a bowl, and also the quintessential nuoc cham (dipping sauce) as accompaniment. This popular dish is well preserved of Vietnamese traditional lifestyle and customs.
Cha Ca is mainly made of white fish, herbs, and noodles. It brings about the spirit of the old age Vietnamese culture that mostly depended on waterways and plants. More than delicious food, this dish is a trademark of Vietnamese cuisine which originated from the Doan family during the French colonial period.
Where to have the best Cha Ca for dinner? Here are the top best 3 places for your Cha Ca:
14 Cha Ca, Hoan Kiem
21 Duong Thanh, Hoan Kiem
20 Nguyen Van Huyen, Cau Giay
Chao Suon
Chao Suon (Ribs rice porridge) is a great combination of stewed ribs and deboned rice as two main ingredients. Nevertheless, some indispensable additions such as pepper, quay, and chili powder, would bring about the tasty and fragrance for the specialty of Hanoi. A full bowl of porridge is quite hot, so it is more suitable for winter to keep your body warm. This local cuisine is well-served by many street vendors.
Not only for breakfast, but Hanoian also has Chao Suon for a quick dinner. Though at some vendors, you have to make a queue and the dish is absolutely worth waiting for!
Where to have the best Chao Suon for dinner? Here are the top best 3 places for your Chao Suon:
32 Hang Bo street
26 Tran Xuan Soan, Hai Ba Trung
14 Dong Xuan in Dong Xuan market
Bun Thang
Yes! Hanoi is definitely a hub for vermicelli. The city is extremely renowned for vermicelli dishes. You may have heard a lot about Bun cha (noodles with grilled pork), Bun dau mam tom (noodles with tofu, shrimp paste), etc. However, Bun Thang which differs from others, is a great combination of those and brings about many layers of flavor for its delicious variety of toppings. There are a lot of ingredients in a Bun Thang bowl, namely shrimp paste, squid, onions, mushroom, etc.
A huge amount of different ingredients, which creates a very specific and sweet broth, is believed to represent the true taste of Hanoi cuisine. Along with "Cha Ca La Vong" (Grilled Chopped Fish), this savory dish, with the clear and appetizing broth, is the elegance of this capital city's culinary background.
Where to have the best Bun Thang for dinner? Here are the top best 3 places for your Bun Thang:
48 Cau Go, Hoan Kiem
29 Hang Hanh, Hoan Kiem
D2 Giang Vo, Ba Dinh
Xôi
It will be a big miss if you come to Vietnam without having Xoi. There are many types of Xoi and you can have sticky rice with a lot of different ingredients and components. In general, both city dwellers and visitors would have a bowl of aromatic sticky rice, with fried chicken or caramelized pork and eggs, Vietnamese sausage, etc. The great combination of glutinous sticky rice and other delicious food is definitely the best choice for your dinner in this charming city.
Where to have the best Xoi for dinner? Here are the top best 3 places for your Xoi:
Xoi Yen: 35B Hoan Kiem, Hanoi
628 Truong Chinh, Dong Da, Hanoi
188 Quan Thanh, Ba Dinh, Hanoi