Reasons Why Should Move to Vietnam
Although Vietnam is a developing country, there are many reasons why people should move to live in Vietnam such as cheap living expenses and located in good climate zone.
1. Low cost of living
One of the reasons why should move to Vietnam is the cost of living is fairly cheap compared to other countries. The average price for one bedroom apartment in the city like Hanoi is about 200 to 500 dollars depending on the location quality and the services that come with the room. You can also enjoy delicious street food for less than one dollar and a regular meal ranges from two dollars to five dollars. Even when you go out to eat, the value added tax is included and you are not required to tip in Vietnam unless you want to.
Besides affordable food and accommodation is super cheap to get around the city too, there are a lot of ride sharing apps out there such as Grab, Gojek, Be, etc. You expect to pay around five dollars for every 10 kilometers. The best thing that i have yet mentioned is how affordable the services in Vietnam are. You can enjoy a relaxing massage session and only have to pay around eight to twenty dollars and a full set nail service for ladies it's around ten dollars five times cheaper than the US.
2. Motorbike culture
There are currently around 50 million motorcycles in Vietnam. Making it the country with the fourth highest number of motorcycles in the world. Most of the foreigners who live in Vietnam said that they love the freedom to hop on motorbikes and go wherever they want. Is a vehicle of choice for most Vietnamese people, since it can easily go through traffic by lane splitting during rush hour and is very affordable. You can rent a motorbike for 50 to 75 dollars per month and expect to spend 10 on gas monthly by just riding around the city. Also if you have any problems with your bikes, mechanic shops are everywhere in Vietnam. Sometimes the locals fix it for you for free.
3. Warm-hearted people
Another reasons why should move to live here in Vietnam is Vietnamese people are not only hospitable but they are extra caring. If you come to a restaurant in Vietnam, don't be surprised if they give you extra meat because Vietnamese people show love through food. People always have smiles on their faces. The elders are happy curious and generous students are hardworking and respectful. Young people are creative, ambitious and enthusiastic. Vietnam has such a great sense of community with small personal space. People tend to be more caring and always help each other. Life feels easier here with more laid-back and genuine people.
4. Affordable food
If you are a foodie, you will fall in love with Vietnam instantly. Besides Pho and Banh mi, which are the most well-known foods. Vietnam has a great variety of delicious street food and desserts such as Bun cha (grilled pork noodle soup), Bun ca (sour fish soup), Che (Vietnamese pudding dessert). In the big cities like Hanoi, Danang or Ho Chi Minh city, it's not hard to find international restaurants. Moreover, Vietnam is known for vegetarian friendly cuisines, it offers great options for vegetarian buffet at affordable price.
5. Safety and Security
According to the 2021 Global Peace Index, Vietnam ranks 50th out of 163 countries in safety. Vietnam is a friendly and safe country to travel, especially for solo travelers. Vietnam is located in southeast Asia with its long narrow shape so there are no earthquakes volcanoes or wildfires. However, from September to November, heavy monsoonal rains and occasional typhoons can affect low-lying areas in the central part of Vietnam. Guns are illegal in Vietnam so you don't have to worry about homicides or terrorism.
6. Coffee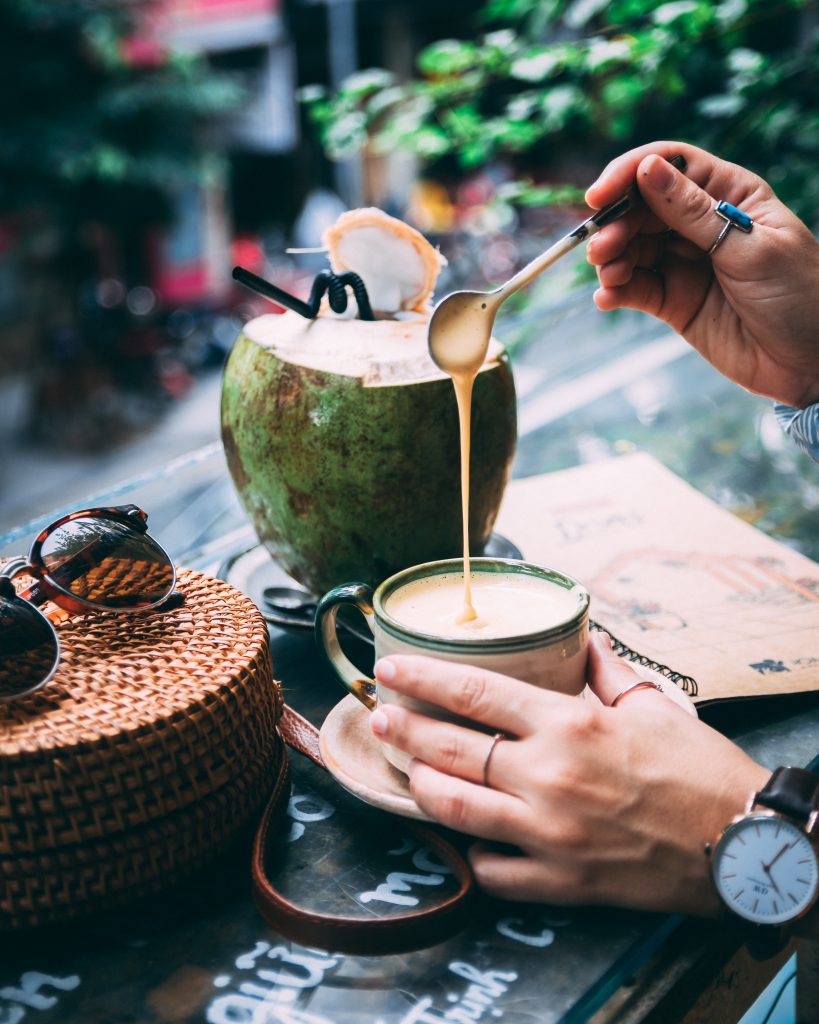 Coffee shops in every corner of Vietnam is one of the reasons why should move to live in Vietnam. It is the second largest coffee exporter in the world. From Vietnamese traditional coffee, cafes to Vietnamese egg coffee cafe, we have it all. You can see Vietnamese people drinking coffee at any time of the day. They love to chitchat with their friends, study, work or even sign business contracts at coffee shops. A cup of coffee ranges from one dollar to three dollars including tax. If you are a coffee lover, Vietnam is a perfect country for you.
7. Nightlife
Vietnamese nightlife is fun for expats. You can easily enter bars here and rarely have to show your ID even though the legal drinking age is 18. If you are looking for great places that have a huge expat community, West lake in Hanoi and Thao Dien in Ho Chi Minh city are perfect areas for you to hang out and have fun with your friends. If you're new to Vietnam, you can join the Facebook group such as Hanoi massive community, Expats in Danang city, Expats in Ho Chi Minh city. There will be other expats and Vietnamese people who are willing to help you.
8. Diverse culture
If you travel from north to south of Vietnam, you will see many unique architectures that have a touch of the French American Chinese and other countries. Vietnam has a long history and diverse culture which are perfect for curious and adventurous minds.
9. Beautiful nature
Ha Long bay has been twice recognized as a world heritage site by UNESCO in 1994 and 2000. Son Doong cave is the largest cave in the world. Besides beautiful beaches and mountains, Vietnam is known for dreamy coffee and pine city, beautiful beach cities and breathtaking green mountainous areas. You can easily hop on a motorbike and travel from provinces to provinces. We call it "phuot" in Vietnamese.
10. Job opportunities
Vietnam's economy has drastically developed in the past 10 years. The emergence of more international trade has provided more jobs in Vietnam with a rapid growth of middle class. Vietnamese parents are willing to send their children to international schools. Therefore English teaching jobs are increasing. Besides teaching jobs, other occupations in medical fields, science, technology, engineering and real estate are in high demand. Vietnam is also great for digital nomads who want to work remotely make decent income and live a comfortable life here.